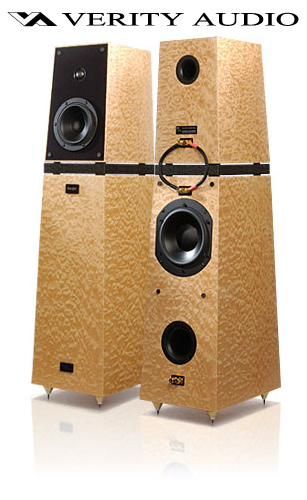 STATEMENT OF MUSICALITY
The Parsifal is an established statement of musicality that has been recognized worldwide. It represents the cornerstone of Verity Audio's philosophy of care. This translates into true cutting-edge technology, true exquisite craftsmanship, true appealing design, true overall reliability, and true outstanding performance for true pride of ownership.
An icon of musicality, reliability and aestheticism for
a thousand of worldwide owners;
Praised for its fullness, truthfulness, authority and appearance;
Two independent and isolated cabinets for superior sound coherency;
The top cabinet is a standalone high-performance studio monitor;
The bass cabinet allows a rear or front woofer configuration;
Unique Verity Audio's bass tuning for extreme definition down to the lowest octaves;
Space effective with no sacrifice in performance;
Superb custom-made and proprietary transducers;
Bandwidth: 25Hz to 40,000 Hz;
A worldwide reference for recording studios, magazines, manufacturers and artists;
Beautifully crafted and finished with exquisite Italian lacquer;
Nicely packed and delivered in deluxe Air Transportation Approved metal cases.