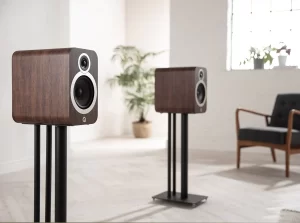 Q Acoustics has been designing class-leading, award-winning loudspeakers since 2006. In that time, Q Acoustics has redefined every market it has entered, from the affordable to the high-end, from stereo and home cinema sound to the revolutionary Q Active wireless audio system.
Founded in 2006
In audio history terms, Q Acoustics is a relatively young company but our achievements have far exceeded out fledgling years. Formed by experts in the audio industry, they tasked themselves with making the best affordable loudspeakers in the world, recruiting world class acoustics engineers and industrial designers to make this a reality.
Since the introduction of the 1000 stereo and home cinema loudspeaker series in 2006, the company has continued to build on the success of this foundational and award-winning range, producing series after series of innovative, leading-edge and best-selling passive, wireless and home cinema loudspeakers.
Available for your listening pleasure at MKoM, Toronto.