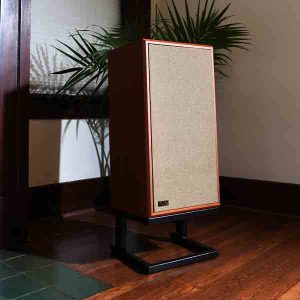 The Model Five acoustic suspension speaker is known as one of the finest and most sought-after speakers for audiophiles, both new and seasoned. Our updated version of this classic speaker has real wood veneers, cast aluminum baskets, and uses acoustic suspension design principles made famous by founder Henry Kloss.
The KLH Model Five is offered in two gorgeous finishes (English Walnut and West African Mahogany), allowing the loudspeaker to blend with all home decor. The English Walnut Model Five comes with a beautiful Stone Wash Linen grille cloth that magnifies the rich finish of the real wood veneers. Meanwhile, our West African Mahogany finish is complemented by an Old-World Linen grille cloth that will stop you in your tracks.
Available for your listening pleasure at My Kind of Music, Toronto.