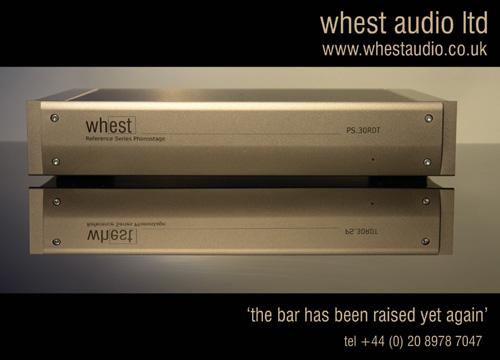 "This phonostage is quite the fastest, most dynamic unit, with the highest resolution one can buy! " Holger Barske
"…the Whest PS.30R easily plays at the same level as the best phonoamps in the world" Thomas Broszio
Already being hailed as one of the very best phonostages ever, the PS.30R is taking the world by storm. This is what the design criterion was for the design engineering team at Whest Audio. The only way to achieve this type of performance was to scale down a true reference, so the MC REF V was used as the platform.
Where the MC REF V uses what the design team call a 'buried discrete' differential input stage to achieve it's ultra low noise 1.2nV sqHz input stage noise level, the PS.30R uses an ultra low noise bipolar 'matched' input stage to achieve it's vanishingly low 1.0nV sqHz input stage noise level. This means that even using an MC cartridge like the Audionote Kondo IO-J with it's ultra low output level of just 0.15mV, is no problem for the PS.30R. At 72dB you'll have all the gain you need with absolutely no noise.
The 'hybrid' passive/active RIAA filter has been lifted directly from the MC REF V and used for it's accuracy and, more importantly, it's transparency. The output stage in the PS.30R was developed for the MC REF V and is used in it's fullest glory in the PS.30R to bring unprecedented levels of detail from the lowest harmonics to the highest levels of the frequency band. And because the output stage is totally discrete in design with an output impedance of only 50ohms at 1Khz driving a 600ohm load, it has no problem in driving long lengths of interconnects even if they are of relatively high capacitance!
The PS.30R also sports a true balanced output which is a first for a phonostage at this price point! If you run either a fully balanced audio system or broadcast studio you won't be left in the dark. And finally, you get all the quality you expect from a Reference Whest Audio product at a non-Reference price! Because we wanted to make absolutely sure the audio quality from this product should match or better anything in it's price bracket the PS.30R employs Vishay metal film audio specification resistors, EVOX RIFA and Vishay polypropylene film capacitors, in-house hand selected and matched transistors, Panasonic low ESR and low impedance power supply filter capacitors, ultra low ts time rectifier diodes, low noise voltage regulators, … and the list goes on and on and on. Oh, and it's hand built and assembled in the UK!
Technical specification
Specification
Model No.:
PS.30R
RIAA curve accuracy: 18Hz – 22Khz +/- 0.2dB
Frequency response: 5Hz – 65Khz -10dB /- 1.0dB
Working band:15Hz – 85Khz
THD+N: 0.006%
MM Gain 40dB
MC gain 50dB-72dB internally adjustable 6 steps.
Connections: Silver Unbalanced RCA, Neutrik XLR
impedance balanced
Connectors: Silver Audiophile
Unpacked weight: 4.5Kgs
Packed weight: 6Kgs
Dimensions:
430mm x 290mm x 78mm
490mm x 350mm x 150mm shipping
Operating voltage: 230VAC 50Hz or 115VAC 60Hz
Transferring your collection to digital? Do remember that the quality of your transfer is directly related to the quality of your turntable/ arm/ cartridge/ phonostage setup. Rubbish in – Rubbish out really does apply here. The whole range of Whest Audio phonostages are used by archiving libraries throughout the world because of their superb audio performance and ultra low noise levels which is essential when converting to digital.
If your phonostage exhibits just a small amount of noise outside of the audio band then THIS will also be digitised. Even the whestTWO can be used with 192Khz /24 bit soundcards with absolutely no problems. The combination of the whestTWO and 192/24 is a great vinyl-digital standard and one which we wholly recommend whether you are on a budget or not.
Not all phonostages are capable of being used for digitising, which is why the archivers choice is Whest Audio.