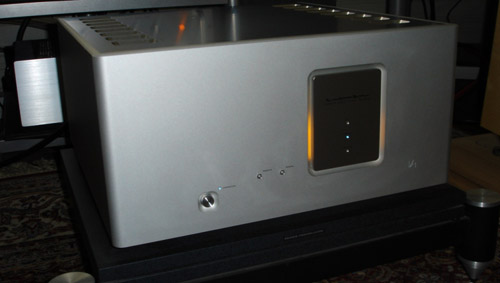 Luxman's emphasis is on reproducing natural music, with lots of warmth, detail; not frightening it into scaring up non-existent detail, which is sometimes described as etched. Luxman's engineer's are fanatical in their attention to detail; while they spend a lot of time analyzing how components perform on their test equipment, the final arbiter is the listening evaluations. Is the product able to play music, convey the emotion, reproduce the ambience of the venue as well as the timbre of each instrument, distinctly. This is where Luxman shines.
Beneath the elegant shell of a Luxman amplifier, lies innovative circuitry, meticulous attention to detail and plain common sense.
Using trickle down technology from the flagship B-1000f, comes this stereo Class A power-house amplifier, with pure A 60W x 2 per channel, into 8Ω. It is stable driving any loudspeaker, even 1Ω loads, with 480 watts to spare.