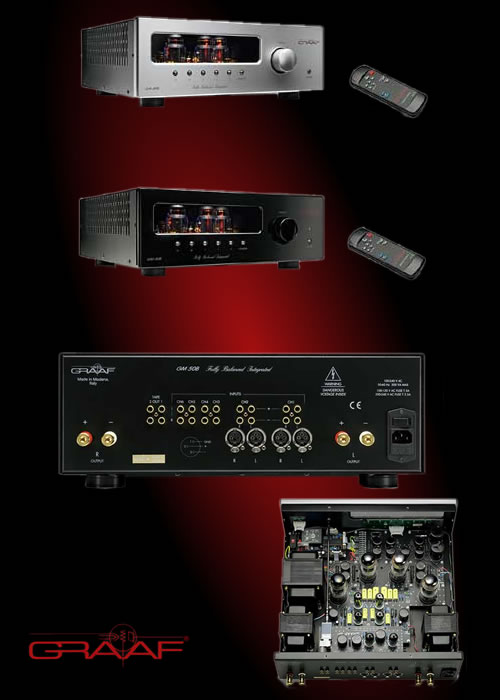 The GM-50 is the most recent GRAAF creation, an integrated amplifier born to complete  production of the highest class. GM-50 includes in a single frame the features and the level of performance that in the past were an exclusive of GRAAF pre-amplifiers and power amplifiers. Construction qualities, sound performance and the highest finishing level are joined with the lower cost and the ease of use of an integrated amplifier. The "GM" monogram on the front panel is a synonymous of the greatest sound quality, until now exclusive for top level electronics like GRAAF GM-200 power amplifier and GM- 13.5 B preamplifier. The goal of GM-50 is to establish new quality standards between top class integrated amplifiers.
As usual for GRAAF electronics, GM-50 aesthetics are very accurate even in the slightest details. They rely on the coupling of a massive 15 mm aluminum panel with a transparent crystal that allows the vision of the internal circuit. Led indicators show through the crystal the source selected by the user, making the front panel even more attractive. Large rotary knobs give a comfortable access to listening level control and source selection. They look solid and sturdy; the pleasant feeling given by their use is quite what the most demanding audiophile can expect of a GRAAF electronic.
The careful manufacturing and the plentiful sizing of the most critical components are suggested by a frame depth of almost 50 centimeters. GM-50 has also a remote control for on/off switching, source selection, listening level control and mute switching. The amplifier can manage up to six line sources: two of them with balanced outputs, the others with single ended ones. Two tape outputs are provided as well.
High quality binding posts allow the connection of a couple of loudspeakers. Elegance and refinement, joined with versatility and ease of use are just a preview for the exclusive GM-50 internal features. They have been considered with the greatest care in the aim to reach new limits for sound and quality in top-class integrated amplifiers. To attain this object some of the solutions typical of the OTL Series electronics, conceived by Giovanni Mariani, are used. The fully balanced configuration from input to output is between them. Its realization concerns the complete doubling of the electronic circuits, the only acceptable solution for the GRAAF quality standards, until now used only for very few electronics of higher cost. At the power switching, GM-50 enters in mute condition, until tubes reach the operating temperature.
Available exclusively at My Kind of Music, Toronto.  Please contact us directly to schedule your audition.