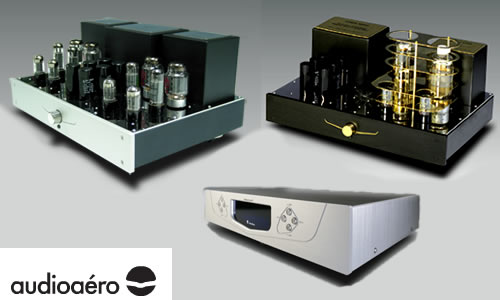 AUDIO AERO, created in 1997, is the high end audio equipment division of Mazères Aviation Group, started in 1977. This group includes now 5 high-tech companies with main activities in aeronautics and racing industries.
The company is based in Toulouse (south-west of France), the "silicon valley" of aeronautics, located just near Airbus office and Aérospatiale plant.
AUDIO AERO products are enjoyed in more than 30 countries.All Audio Aero products are manufactured in our facilities by people with aeronautic certification to ensure quality and reliability.
AUDIO AERO has at it's disposal aeronautic industry testing equipment and we own complete audio specific testing devices (Audio Precision ATS2, Neutrik A2D)
"Passion for music is the reason why AUDIO AERO exists, while our slogan "Fly to the music" summarizes our area of France and our way of living, mixing art and aerospace industry.
Available through My Kind of Music; for more information visit the manufacturer's site:http://www.audioaero.com/
Prestige Monoblocks – Experience the ultimate in single-ended design

Prestige Monoblocks represent the latest development of our exclusive TRAC® system (Tube Relay Amplification Concept) where single-ended triode and high voltage pentode are matched to bring out the best of both worlds (musicality and low impedance for triode – power and efficiency for pentode).
Far beyond classical single-ended designs, these reference mono blocks are able to reproduce music in an outstanding way, offering the more open, dynamic and realistic sound you've ever heard.
Indeed, this 40 W Class A special system allows single-ended to keep its body and magic, and enables higher speed, large bandwidth, incredible true soundstage, improved details and focus.
Step forward and go to the exception.
Specifications:
Typical audio performance :
Frequency range : 15 Hz – 25 kHz (-1dB)
Output power : 40 W Class A / 8 ohms
Input impedance : 2,2 Kohms
Input sensitivity : 1,0 V
Rise time : 5 µs
Signal to noise ratio : 70dB
Total harmonic distortion : < 0,3 %
Power supply :
100 / 120 / 230 / 240 VAC, 50 / 60 Hz selected at factory. Voltage visible at the rear on the fuse drawer.
Power consumption (each block) : 300W
General :
Tubes : 6SN7GT, VT4-C, 813
Inputs : single-ended RCA
Outputs : gold plated five-way binding posts
Chassis and bottom plate : 15/10 steel
Upper plate : 30/10 polished stainless steel
Delivered with Black Diamond Racing Pyramid Cones
Weight (each) : 30kg. / 65.22 lbs.
Dimensions (W x L x H) : 520 x 395 x 285 mm / 20.47 x 15.55 x 11.22 inches