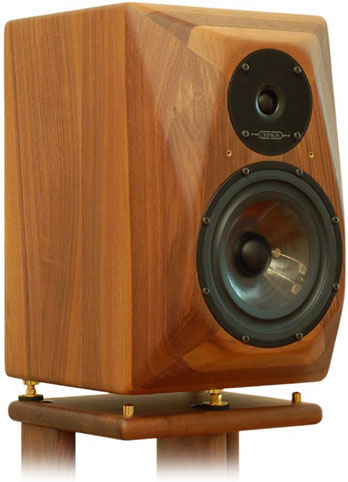 Diapason was founded in 1987 by Alessandro Schiavi, who previously had extensive experience in recording studios. His skill in capturing live music in three dimensional space and its faithful reproduction, led to the development of the first speaker by Diapason, the Prelude.
The Prelude, and all the speakers manufactured by Diapason, are designed to offer the highest fidelity and transparency to the absolute sound. Furthermore, our speakers convey the emotional involvement of the live performance.
Each Diapason speaker is hand assembled and wired by skilled craftsmen. The beautiful cabinetry is not only an integral part of the design, but the highest example of Italian furniture- making. The cabinets, which are constructed in solid-wood staves and completely handmade by our skilled craftsmen, are assembled in a particular way which makes the whole structure highly rigid and free from resonance.
At the basis of every Diapason project is the study of form, whether in the search for an elegant and refined appearance or for innovative solutions in the quest for perfect acoustic reproduction. The Reference Series and Adamantes Limited Edition represent the pinnacle of this research, with its "diamond" form which enables the loudspeaker drive units to perform at their best. Their unique polyhedral shape eliminates all distorting resonances allowing the music to be heard without smear or boxiness.
The drive units and crossovers used in each Diapason project are the result of the most advanced acoustic research, and are matched to a tolerance of within 1%. Drive units are made exclusively by the best manufacturers to strict Diapason specifications. Only materials which have been thoroughly tested are used, to ensure the best acoustic performance and to allow ease of driving by any kind of amplifier.
Adamantes 25th Anniversary joins the Diapason family in celebrating the 25th Anniversary of the original Adamantes, designed in 1989 by Alessandro Schiavi, and well-known for its diamond shaped multi-faceted solid wood cabinet. Owing its name to the ancient Greek word meaning "diamond", Adamantes has been a revolutionary and yet still modern design for the last 25 years.
The speaker-shape design, especially created in order to achieve a realistic and superb sound performance, match with Italian cabinet craftsmanship that make each speaker a unique and precious piece of art.
Exclusively at MKoM, Toronto