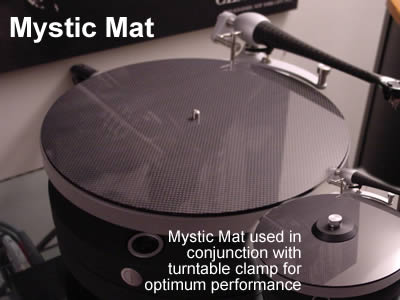 A viable necessity for the discerning music lover.
We're not afraid to boast this, but we believe the Mystic Mat & Mystic Mat II will redefine the art (and science) of listening to your cherished vinyl…forever! Here's a deceptively simple turntable mat that embraces the analog-loving listener with a smooth, rich sound complete with impressive subtleties and detailing that competing mats can't touch! Imagine improvements in frequency extension and low-level resolution without tonal imbalances, increased dynamic range that's rich and unrestrained, bass that's really there when it needs to be there, and 3 – dimensionality that's so close to being dead-on…need we say more! IT'S THAT GOOD!
When we auditioned this remarkable product we were pleased to see that the Mystic Mat exhibited every bit of the manufacturer's claims (as well as Michael Fremer's assessment in his August 'Analog Corner' column), but what we didn't expect an even more exciting improvement when we used the clamp with the mat! Smoother bass, cleaner highs, and an even more spacious background! You'll have to experience the results with or without the clamp, but either way you won't be disappointed! Its sturdy and well-built design mean this product is going to be part of your turntable for many years to come.
The Mystic Mat is composed of a layer of gel-coated resonance-controlling carbon fiber mated to a layer of CF polyurethane and followed by another sheet of carbon fiber. It's thin (4mm) profile makes it a perfect candidate for any 'table needing immediate musical improvements from conventional felt or rubber record mats. It fits snugly on your turntable's spindle and lies nice and flat on the platter with the smooth side down. Simply place your LP on top of the contoured surface, place the stylus on the grooves and get ready for a dose of musical reality! Available in 3mm, 4mm & 5mm thicknesses.