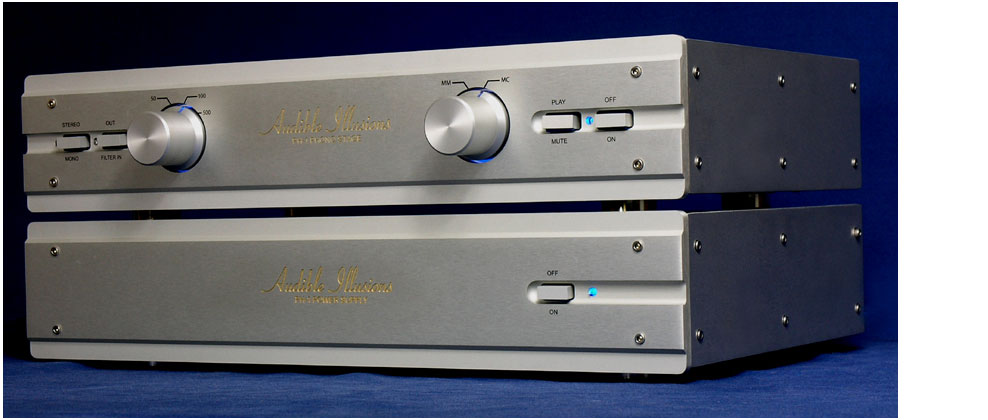 AUDIBLE ILLUSIONS PH-1 PHONO STAGE PREAMPLIFIER – SOLID STATE
– The shortest path from the record groove to your soul.
Hidden within the grooves of vinyl records is information capable of transporting listeners into a wonderland of musical experiences. Mined properly, records have the ability to reproduce a natural sound truly faithful to the original recorded event. With the cartridge converting mechanical energy into electrical energy, the challenge becomes how to properly preserve and amplify the signal to get the sound off the record and into your soul.
Three years ago, two of the most respected names in audio joined forces with the goal of building a state-of-the-art phono preamplifier to do just that. Not satisfied with the status quo, the goal was to design a phono stage leveraging their decades of experience but taking full advantage of the latest devices and materials. They say all good things take time and great things perhaps a little longer. Today we at MKoM are pleased to share the results of their effort by announcing the Audible Illusions PH-1 Phono Preamplifier – the shortest path from the record groove to your soul.
Designed by legendary audio engineers John Curl and Carl Thompson, the PH-1 is undoubtedly destined for greatness. The PH-1 leverages a single-ended design philosophy with a circuit comprised of only the finest devices and components. It employs through-hole construction for maximum possible sound quality and reliability and a two-chassis design. The control and power supply units are housed independently which isolates noise and vibration from the delicate audio section. The two units are connected together via a specially designed, high performance shielded umbilical cable that is designed to prevent outside noise from affecting the audio signal. The PH-1 is a no-compromise dual-mono design with the left and right channels electrically and mechanically isolated from each other to allow true dual mono operation – resulting in definitive stereo separation and sonic purity. The circuits are wrapped in an enclosure that is functional and visually stunning. The PH-1 is capable of delivering a musical experience with a level of intellectual and emotional authenticity only bettered by the live musical event itself. Most would agree that it's rare for an audio product to combine expert craftsmanship and stellar performance with high value. Yet like other components from Audible Illusions, the PH-1 preserves this tradition. Listen and we think you will agree that the PH-1 delights with its musicality and timeless design.
INPUT SELECTION:
Front Panel has separate MM and MC inputs; MC Cartridge loading of 50, 100, 500 Ohm and 47k Ohm. Optional User Adjustable Loading for MM and MC inputs.
Stereo-Mono switch
Subsonic filter
Off/On and Muting switches.
OUTPUT SELECTION:
Record Out and Signal Out.
FEATURES:
– Circuit design is proprietary John Curl JFET construction. External power supply has four fully- regulated JFET power supplies. Main chassis has two fully-regulated power supplies.
– All circuit boards are hand soldered with silver-bearing solder. Phono boards are gold plated. Circuit traces are OFC copper.
– Precision-machined chassis built on a strong framework designed to dampen vibration. Face plate, control knobs, covers and Ssde panels are machined from military-grade aluminum. Screws are non-magnetic stainless steel.
– Thick face plate has chamfered top & bottom edges with light-grey semi-gloss sand finish. Center of face plate brushed-clear anodized with black lettering. Audible Illusions logo engraved, gold filled. Control knobs have low-light back-lit illumination. RCA jacks are cryode-treated gold plated copper.
– Heavy-duty detachable umbilical cord has military grade amphenol connector connects dual- independent power supplies. Heavy-duty IEC line cord included.
– Completely handcrafted in USA.
SPECIFICATIONS
GAIN: MC – 60dB ; MM – 40dB
THD+N: .01% 10Hz–20kHz
RIAA EQUILIZATION: .1dB 20Hz to 20kHz
OUTPUT NOISE: -100dB @ 2V Output 20Hz to 20kHz
OUTPUT IMPEDANCE: 50ohm
DIMENSIONS: Each Chassis – 17"W x 11"D x 4"H (Incl. Feet)
NET WEIGHT: 45 Lbs. Both Chassis
SHIPPING WEIGHT: 55 Lbs