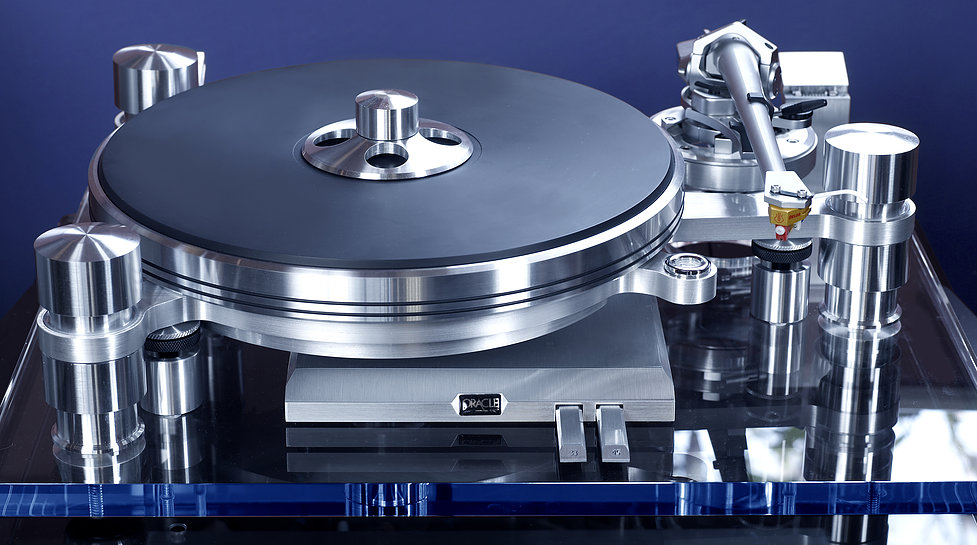 "With the improvements in the bearing, and especially with the addition of the silicone damping system, the Mk.VI edition not only retains the Oracle Delphi's position as one of the most beautiful turntables in the world; it reestablishes it as a formidable contender in and well beyond its price class."
-Michael Fremer, Stereophile March 2010
Since 1979, Oracle Audio has been producing state-of-the-art stereo components. Oracle's first turntable, the AC model, introduced new features and technologies to the analog world. Oracle's Delphi MkI was introduced in 1980. The new Delphi MkVI is the sixth edition of the Delphi's line heritage. Through the years the Delphi won numerous prestigious awards and it has been acclaimed worldwide! The Delphi MkVI was awarded the Analog Grand Prix 2010 Gold Award from Japan, more recently Enjoy the Music.com's Best of 2014 Blue Note Award. To this day the Delphi is still Oracle's flagship product and still serves as a reference in the analog community!
Using the finest components and design technologies, the Oracle Delphi MkVI is exquisite in all aspects. Like its predecessors the Delphi MkVI is supported by three suspension pillars to efficiently control unwanted vibrations. It harbors a massive belt-driven platter that uses a center clamp system first introduced by Oracle back in 1979. The Delphi's floating chassis, milled from solid billets of aluminum, is an extremely rigid and inert structure supporting the tonearm and the platter. While the fabrication process of the Delphi is one of minute precision its development process is one of science and emotion; to bring out all of the music's depth and detail. Truly the Delphi MkVI is a work of art!
"The engineering involved in the Oracle is as unique as its styling and the constructional standards are in the Mercedes class – the best !"   – Hi Fi Answers, England.
The Delphi is a remarkably handsome work of art. Clearly a refinement over its predecessors, the new Mk VI is engineered to a level that the industry is invited to emulate.